⏩The results are in: Law firm life (still) ain't easy
Welcome to FORWARD, a newsletter for GC's trying to make sense of breaking legal developments. 
This week: Attorneys at law firms are way too anxious and litigation against states is turning into a surprising coronavirus trend. Plus: Can a sports team -- or a major corporation -- rise above the law?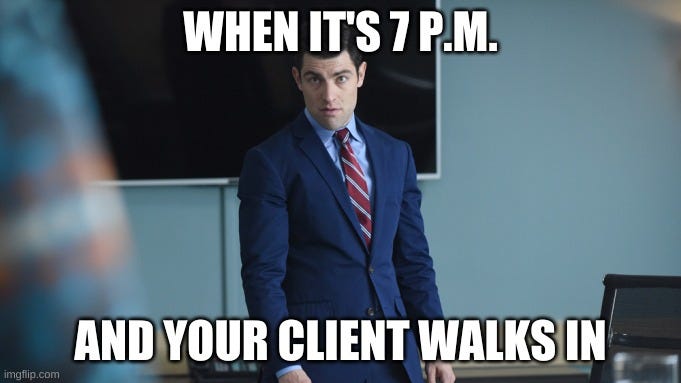 If you're a general counsel or entrepreneurial lawyer wondering whether the grass is greener on the firm side, you may want to think again. Attorneys at law firms are more depressed and anxious than average Americans and have little hope anything will change, according to a survey of 3,800 lawyers by ALM. 
Inside the numbers: Of the 3,800 respondents, 31 percent reported being depressed; 64 percent said they have anxiety. In the general U.S. population, only about 8 percent of adults say they suffer from depression, and about 20 percent of adults have anxiety disorders.     

The usual suspect: The lawyers pointed to a common reason for the stress and depression: the billable hours that make them feel like they have to work all the time. One respondent said: "It seems that is really driving a lot of the lack of health. I met my requirement last year but was told in my review that I 'left money on the table'—[in other words,] I should've billed more, which was frustrating."  

Unforgiving clients: Outside of billable hours, clients were the second-most common source of frustration. Lawyers felt firm leadership would cave in to the demands of high-paying clients and force associates to work for free or on weekends and vacations. 
Can it get better?
Many respondents said law firms have emphasized being aware of mental health issues in recent years but they haven't changed any policies to promote mental health. How could they do that? For one thing, the respondents said by getting rid of the billable hour system. 
The Verdict
This survey was taken before coronavirus disrupted the country, sending lawyers home and piercing firms' bottom lines. Perhaps law firms -- and all legal departments -- can permanently learn from the way mental health is being stressed now among the legal community.
A surprising mix of clients are keeping law firms busy as the economy slows: businesses and coalitions suing the government over coronavirus restrictions. 
Lockdowns mean lawsuits, an odd mix of lawsuits: A conservation group in Michigan sued over a motorboat ban (the suit was later dropped because the governor dropped the ban). A bridal store is suing Ohio because it is not considered an essential business. Landscapers and gyms have filed similar lawsuits.

Success doesn't come easy: Plaintiffs argue their 14th Amendment rights and due process have been violated. But states have wide-ranging abilities to restrict the movement of citizens during emergencies, and judges rarely side against the government when it comes to public health.  
Governments are getting in on the plaintiff side, too
Missouri's attorney general sued China last week for not doing enough to stop the coronavirus outbreak. And Mississippi joined in the blame game this week, filing a China lawsuit of its own. 
The Verdict
With increased pressure for states to reopen, restrictive measures that remain in effect may see tougher challenges in court. U.S. Attorney General William Barr told federal prosecutors "to be on the lookout" for coronavirus orders that could violate the constitution.  
What happens to the legal system when everyone feels like they're part of the same team? Is fairness possible? An obsession with a Portuguese soccer club provides an example of the complexity that comes with power.
Benfica is the top soccer club in Portugal: It has a fan base that lives and dies with every result and regularly invites judges, politicians and other public figures to its matches. 

A man named Rui Pinto hacked into Benfica's records: He released them on the Football Leaks website. The records provided evidence into the sometimes unseamly business practices of major European football, including how Benfica provided benefits to powerful Portuguese leaders.  

Benfica supporters were not pleased: And those supporters included the judge assigned to the case. He "liked" a tweet suggesting Pinto was a pirate and had posted several praiseworthy tweets of his own about Benfica. 
Pinto's lawyer says this is state capture
State capture happens when an entity grows so large that the state, including the legal system, can no longer hold it in check. U.S. politicians have been levying the same concerns about large tech companies.
The Verdict
The Portuguese judge asked to be recused from the case after local media outlets revealed his social media. But a fair trial may elude Portugal: At least 44 judges had been invited to Benfica matches as special guests.
What else we're forwarding
Is Amazon getting busted?: A Senator wants the Feds to start a criminal investigation against the tech giant on antitrust grounds. Amazon has faced antitrust criticism before, but not calls for criminal investigations. 
Ready, aim, Zoom: Zoom has been one of the hottest tech companies during the pandemic. So Google, Facebook and others are plotting new products and features to steamroll it. 
If you enjoy reading FORWARD, here's 2 ways you can help:
️ "Like" this email - it's a simple click for you that helps us a lot

⏩ Forward this to someone who you'd think would enjoy this email
🧐Raad