Discover more from NOT BILLABLE
Weekly legal news updates. Full event replays. Curated content. Powered by Lawtrades for the in-house legal world.
Over 4,000 subscribers
⏩The big lawsuit headed for Big Tech
Welcome to FORWARD, a 4 minute newsletter with entertaining takes on the legal news you need to start your day.
If you're new here, say 👋🏼 by commenting on this email.
---
Dealing with hiring freezes and budget cuts? We can help ⬇️
---
This week: Google faces an antitrust action, recessions are opportunities for entrepreneurial lawyers and law professors inject a little Seinfeld into the law.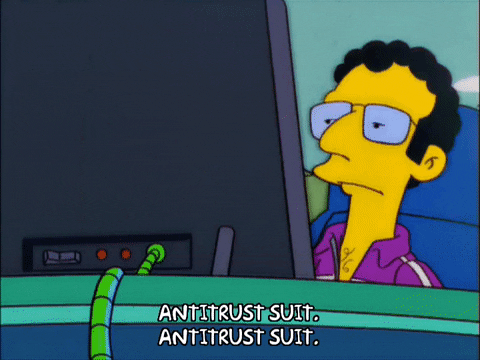 Years of blowback against America's biggest tech companies will likely come to a head this summer as the Justice Department expects to file antitrust charges against Google. 
The investigation is still ongoing: But regulators expect to bring charges related to Google's dominance in the ad market (it takes in roughly one-third of all dollars spent on advertising) and harming competitors through its search rules. This will likely be the biggest antitrust action in the U.S. since the DOJ went after Microsoft in the 1990s.

The U.S. is following Europe's lead: European regulators have already fined Google for issues around advertising and mobile phones.
And other tech companies will perhaps follow Google's lead
State Attorney Generals have also been investigating Facebook, and America's other major tech companies, such as Amazon, could face pressure from regulators in recent years. 
Google has been here before and faced no repercussions. In 2013, the Federal Trade Commission ended a 19-month investigation and declined to press charges. 
The Verdict
One of Google's defenses is likely to be a tried-and-true strategy for major companies at risk of antitrust charges: popularity. The company notes that people are satisfied with its products.     
---
Thinking of going out on your own, or starting something up with a few lawyer friends? The down economy may present a great opportunity, according to Law360.
What's bad for the big guy could be good for the little guy: Companies that typically outsource law work to big firms may want a discount and choose a lawyer with discounted rates. Entrepreneurial lawyers and boutique firms can typically negotiate lower because they have lower overhead. 

And the lowest overhead of all is no overhead: With people getting used to Zoom meetings, attorney Nicole Gueron, who started a firm, said lawyers could get away with having no physical office space, at least for a while.

It's easier than ever to start up a firm: Firms used to require a crazy amount of infrastructure, even excluding office space. Now almost everything can be stored on the cloud or Clio software.
The Verdict
It worked in 2008 and 2009, when the financial crisis led to an increase in lawyers starting smaller practices. But lawyers who have ventured out on their own have a warning: Be sure you're ready for the business and networking side of things as much as you are the law. 
---
Don't expect training opportunities for GCs -- a key component in continuing legal education -- to be the same as they were before coronavirus. Here are a few takeaways from a survey of 405 GCs regarding in-house training programs.
People want to stay home: Only 17% of respondents said they would be ready to physically attend training events and education sessions even after stay-at-home orders are lifted. Some 45% of respondents would consider going to a session if protective gear and social distancing was mandatory.

GCs may not be able to go if they want to: Nearly half of the attorneys surveyed said they expected their travel and training budgets to decline in the next year. 

Training sessions have already been thrown out of whack: Two-thirds of respondents say they've already had to skip an in-person training event because of coronavirus.

---
What else we're forwarding...
We recorded the deposition and yada, yada, yada: 11 law professors are teaching a Seinfeld and the Law class this summer. You can enroll for free on Zoom.
Get rid of that lawyer imposter syndrome: In case you need any tips on how to feel like you always belong, check out this podcast from "Legal Speak."
---
If you enjoy reading FORWARD, here's 2 ways you can help this community:
️ ♡ "Like" this email - it's a simple click that helps us a lot

⏩ Forward this to someone who you'd think would enjoy this email
---
I'll see you next week.
🧐 Raad