⏩ Why 70% of minority women lawyers consider leaving law
Welcome to FORWARD, a 4 minute newsletter with fresh takes on the legal news you need to start your day. Made by your friends at Lawtrades—a platform putting the internet economy within every professionals reach.
---
This week: A new report reveals a troubling legal diversity issue, Germany enacts a major new hate speech law and a (lack of) a Supreme Court decision costs major tech companies billions.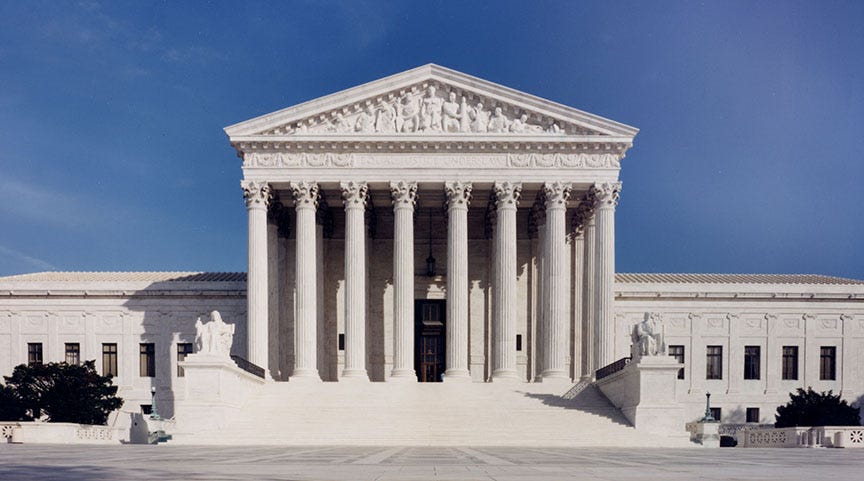 ---
The ABA shared a bombshell report this week showing that 70% of minority women lawyers either leave or consider leaving law in the middle of their careers. 
First, a caveat: The researchers prefaced their data by saying it is not statistically significant because they wanted to find a larger sample size. The statistic is based on a survey of 103 participants who are at least 15 years out of law school.

Almost all the respondents faced stereotyping and a steeper path to success: One Black woman said at her firm all the Black attorneys had two Ivy League degrees, while white associates had lower education credentials. Others talked about not getting mentors or feedback from senior attorneys. 

Those who stick around shared common reasons: They enjoyed legal work, their financial situations and the way their legal careers fit their overall lifestyles. These reasons were enough to deal with the barriers to progressing in the field.  
Another thing to keep in mind about that caveat
One of the reasons the report's authors weren't able to find a better dataset, they noted, was the difficulty of finding minority women who were longtime lawyers. They analogized it to finding minority women equity partners, a hard task considering minority women comprise 2% of big law equity partners. 
The Verdict
The report featured several recommendations for lawyers and firms, and a suggestion that they pay real attention. "We ask that this study not be read and then put on a shelf to be picked up five years from now and 'surprisingly' discover nothing has changed, the authors wrote. Read the full report here.
---
Because of a new law inspired by the murder of a pro-refugee politician who had been targeted online, German tech companies will have to report potential hate speech to federal authorities as soon as they become aware of it. 
Like in the U.S., Germany has a hate speech controversy: And government authorities believe online hate speech is leading to a rise in popularity of extremist groups.

There's plenty of opposition to the new law: Opponents say the hate speech reports will end up in a database where the government will be able to easily access personal data of users and build up cases against them. They fear the government would be able to do this for anything turned in by tech companies, even if the questionable material does not constitute hate speech.   
This isn't Germany's first attempt to crack down on hate speech
Since 2017, the government has threatened tech companies with massive fines if they didn't clean up what the government believed to be hate speech on its own. That ruling still applies. And free-speech advocates have been concerned tech companies will be generous with censoring speech in order to avoid the spectre of a fine. 
The Verdict
America is in the early stages of putting more pressure on tech and social media companies to police potential hate speech. But the efforts are being affected by partisanship and an attempt by Donald Trump to punish tech companies for censoring speech (particularly his own speech).   
---
By denying cert to a case involving the IRS, the Supreme Court will cost tech companies billions of dollars.
This is all about foreign subsidiaries: Major tech companies with foreign subsidiaries preferred a higher share of their costs to be distributed to the United States and away from other countries. The result is higher deductions and less taxed income in the U.S., coupled with more income reported in foreign countries, where tax rates are lower.
The appeals court had earlier ruled in favor of the IRS: But the trial court had sided with the plaintiff, Atria, which was later bought by Intel. So tech companies had hoped for a reversal, and some had been waiting to pay the IRS thinking they'd have a smaller bill.
We're talking big companies and big bucks: Facebook, Alphabet, Twitter and Intel, a party in the suit, are among those that stand to lose billions of dollars combined because of the result. 
The Verdict
This is likely to be a one-time gut punch for the companies. In fact, it's the IRS that will likely need to make longer term adjustments. Legal experts believe this case will make the agency more open to review by courts in the future.    
---
What else we're forwarding
Big Law has actually held up pretty well during the pandemic:According to a Wells Fargo survey of larger firms, firms have recovered after seeing demand fall in April and May. The survey showed that demand was only down 1.4% YoY through the first five months of 2020, and layoffs had been modest. 
Don't believe all the calls for diversity you see on Instagram: The NYT explores how pro-Black mantras from social media companies like YouTube and Twitter are often undercut by the companies' actions.
---
See you next week!
🧐Raad
P.S. - Here's the Barcelona Opera reopening with an audience of plants.