⏩ Twitter vs. Trump and social media's big legal battle
Welcome to FORWARD, a 5 minute newsletter providing entertaining takes on the legal news you need to start your day.
---
Build an unstoppable remote legal team to weather anything
⤵️
---
This week: Trump's social media beef with tech companies could be headed for the courts and curfews, enacted by cities last week, may not be legal. Plus, one attorney questions the ways GCs can promote better treatment for black lawyers.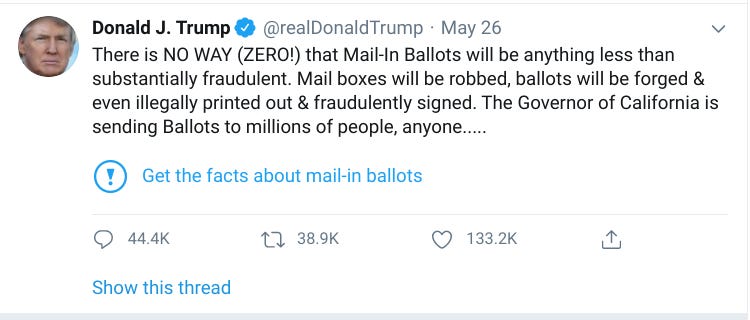 Donald Trump calls it one of the "gravest dangers" free speech has faced in the history of the United States. Twitter calls it a fact-check. 
And the conflict between him and Twitter is leading to a legal battle over the regulation of social media companies. 
This all started with a Trump tweet: After he tweeted false claims about voter fraud, Twitter inserted a warning below the tweet stating the information he had provided was misleading.

In response, Trump enacted an executive order: Its intent was to make social media companies vulnerable to legal action in response to what is posted on their platforms. They have long enjoyed immunity from such actions through Section 230 of the Communications Decency Act. But legal experts suggest the executive order amounts to little more than a publicity stunt and does not nullify any existing laws or protections. 
Tech vs. America's politicians
Social media companies, particularly Facebook and Twitter, have been fighting battles about the content posted on their platforms on two fronts. 
Many politicians have been concerned about the content these platforms allow, most prominently the posts by Russian bots ahead of the 2016 election. Mark Zuckerberg has contended Facebook does not have responsibility for determining the veracity of posts and comments on its platform.  

Other politicians, including Trump and top Republicans, believe social media platforms have been disproportionately censoring conservative voices. By changing Section 230, they would hope to challenge social media platforms for censorship they see as invalid. 
The Verdict
Although Trump's executive order will likely prove toothless, AG William Barr has said the administration intends to push legislation targeting tech companies' protections in Section 230 through Congress.
---
A week after many people and companies, including Law Trades, have called for change, how can it really happen? Attorney Donald Prophete questioned whether GCs would make their profession more equitable in a Law.com story. These are a few of the questions he asked for general counsels to ponder if they want to offer more opportunities for black lawyers.
"Will they finally acknowledge that their inbred institutional systems are fraught with hidden, if not open inequity?"

"Will they look into meaningful ways of repairing a system built and maintained to create opportunity for white males at the exclusion of others?"

"Will they excuse their lack of contributions based on the excuse that they don't want to disrupt their subordinates' existing relationships, borne from backgrounds and relationships with people who look exactly like them?"

"Will they continue with their explanation that their hands are tied from hiring Black lawyers and giving black lawyers business because they have historical relationships with the phalanx of lily-White lawyers who control their files."

"Will this be yet another opportunity for these same GCs to double down on their explanation that they hire the very best lawyers to represent them without regard to race (implicitly suggesting that Black lawyers don't stack or measure up to their white colleagues), as the reason for their failure to provide opportunity or access to business to Blacks?"
---
As protests broke out across the United States, cities as varied as Los Angeles and Cincinnati set curfews to get people off the streets in the evening. Lawyers are questioning whether cities should be allowed to make these decisions, according to the Wall Street Journal.
Curfews have a definitive goal: Cities believe that by enacting a curfew they can either prevent violent protests or separate law-abiding protesters from those more likely to commit crimes. A former police chief told the WSJ "The curfew is not designed to prosecute people, the curfew is designed to make it easier for law enforcement to identify people who do need prosecution."

But opponents contend curfews are used to sweep people off the streets: Peaceful protesters say they want to stay out to continue to be in the public eye. And those who stay out can be arrested, further inflaming tensions between police and community. In Chicago, a 9 p.m. curfew was announced at 8:30 p.m., giving little time for protesters to follow the order.
The curfew pushback
Several cities have been sued over their curfews, with civil liberties groups saying the curfews violate the right to peaceably assemble. And district attorneys throughout the United States have declined to prosecute curfew arrests. 
The Verdict
Curfews regarding protesting are not common internationally (Hong Kong officials did not enact them during its major protests last year). But because of the decline in violence over the last week, the practice may continue in the U.S.
---
What else we're forwarding
Don't be this guy: An administrative law judge in Washington D.C. got suspended for pursuing a lawsuit over a lost pair of pants in which he sued a cleaner for $67 million.  
Get that money back from Madoff: Will we ever know how much money infamous ponzi-schemer Bernie Madoff handled? The Supreme Court ruled lawsuits over money stolen by Madoff and transferred overseas could continue.
---
See you next week.
- Raad