⏩ The reason GCs are being counted on to solve more non-legal problems
Welcome to FORWARD, a 4 minute newsletter with fresh takes on the legal news you need to start your day, made to order by your friends at Lawtrades.
Outside counsel unaccustomed to remote work and new budget constraints? We can help ⬇️
---
This week: GCs are picking up new roles, a breakdown of job losses in the legal industry and Dwight from The Office provides a fantastic law school commencement address.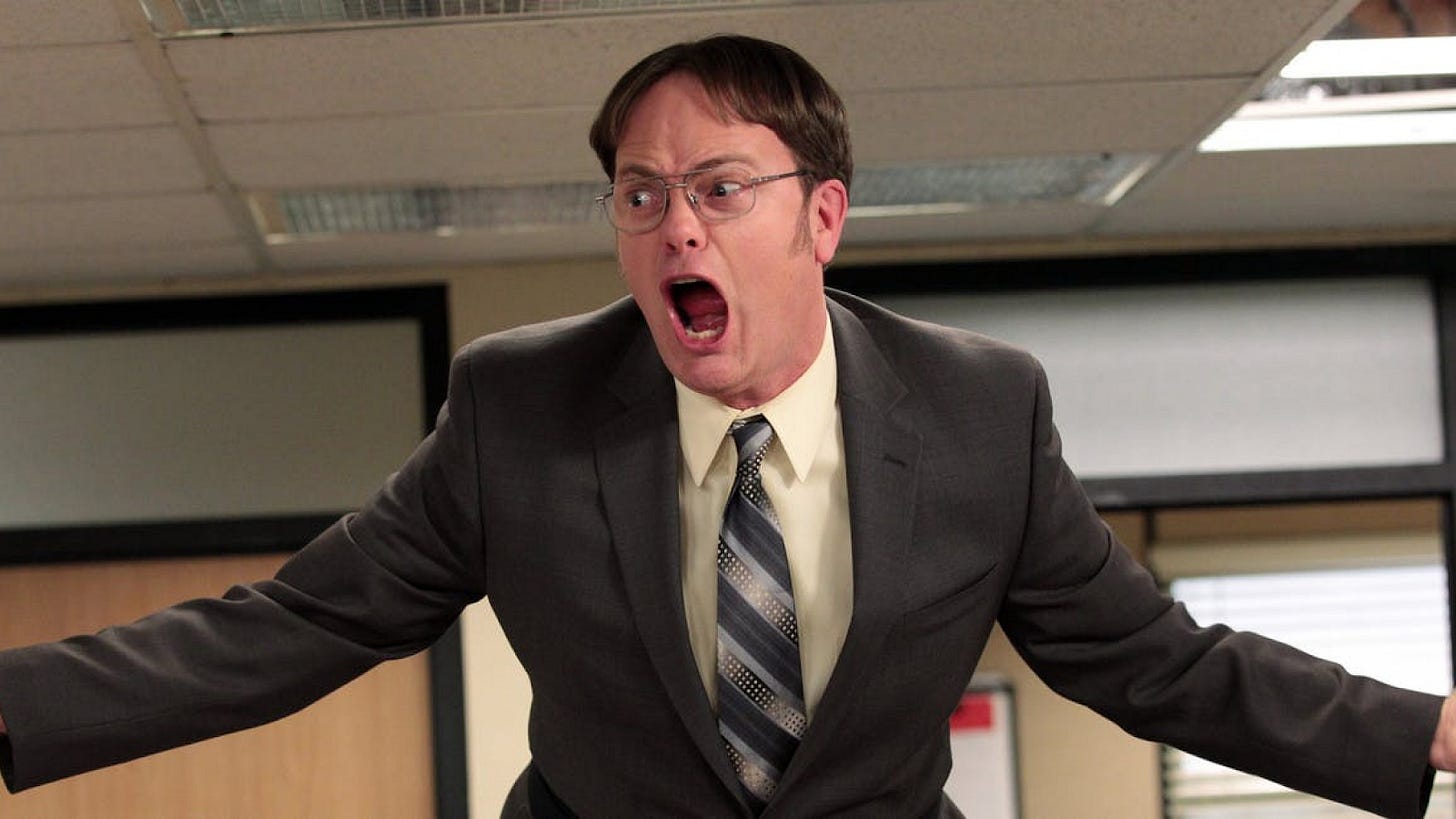 Anyone who works at the San Francisco 49ers' offices has to get their temperature checked before entry -- and that decision was made by general counsel Hannah Gordon. It's one example of how the global pandemic has thrust GCs into even more versatile roles, according to Law360. 
Companies have countless questions about how to handle the coronavirus: And there are very few clear answers. That's why they have turned to their legal departments. At Pitney Bowes, Inc., chief legal officer Daniel Goldstein said he faces new issues every day, from figuring out how social distancing will work to deciding when people need to wear masks.
Shifting into a true counselor: "The job is about being a counselor in the broadest sense of the word," Goldstein said to Law360. "We are problem solvers, and the legal component is just one aspect of the job." 
Questions from outside companies: The guidance doesn't end with a GC's company, either. Christopher Updike, general counsel at Stretto, Inc., said many business colleagues have called him seeking best practices for handling coronavirus changes.  
Rallying the GC team  
GCs dealing with new responsibilities have also dealt with the challenge of keeping operations smooth while people work from home. One tip, from Liberty Media Corp.'s Renee Wilm: turn monthly check-ins into weekly check-ins  
The Verdict
When a sense of normalcy returns, GC's say that deeper connections with colleagues, whether virtual or in-person, will be the biggest change post-coronavirus.
---
The legal industry suffered more job losses in April than at any point since the Great Recession. Some 64,000 workers lost their jobs, according to Bureau of Labor Statistics data crunched by Law360.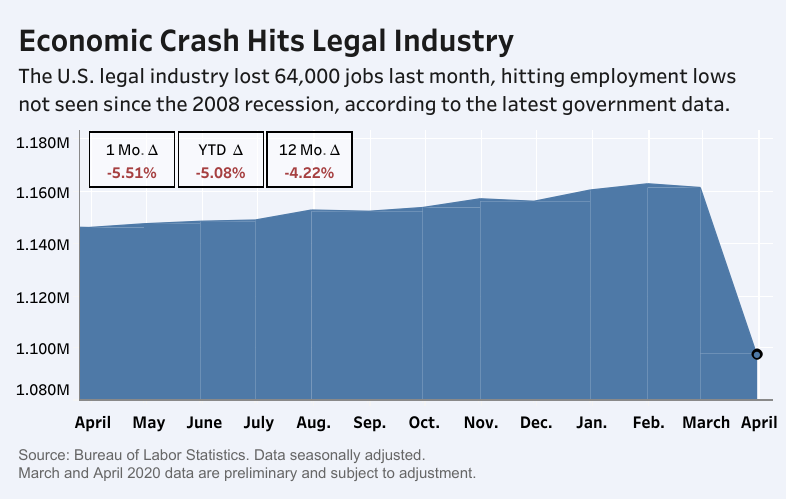 But there is some good news
And plenty of legal practices have been seeing increased business. There has arguably never been a better time to focus on cybersecurity law, as companies migrate online, and liability law.
---
Consider it the law school commencement speech you didn't know you needed: At a time when major law schools have canceled commencements and speakers -- and when all of us, regardless of how far we are in our careers, could use a little positive encouragement -- the Texas A&M School of Law came through in the clutch with a virtual appearance from Rainn Wilson, best known for his role as Dwight in The Office. 
His main message was to focus on gratitude: He referenced a study of how a person who spends five minutes a day writing in a gratitude journal will see an increase in happiness of 10 percent -- the same increase a person typically sees when they double their income. 

For lawyers specifically: Wilson said, "The law is so important. The rule of law is being attacked on a lot of different sides, in a lot of different,insidious ways. And it is super, super important to keep it going and to honor it."  (You can watch the full 7-minute speech here). 
What is it with cast members from The Office providing good lawyer advice?
Mindy Kaling gave a great commencement speech at Harvard Law School a few years ago. Aside from hilarious jokes about the Dartmouth Red Bull School of Law, she shared this advice:  "The seductive southern lawyers from John Grisham novels get all the glory, the Noah Feldmans, but the rest of you form the foundation for our day to day lives. It's backbreaking and often, there is not much glory. And in that way, a lot of you will become the quiet heroes of our country."  
What else we're forwarding...
Why does every startup have a fast-sounding name?: Have you been using Xum and Zum in addition to Zoom? This is a really fun article about how startup names get made. 
It is still not easy to be a lawyer in California: California's bar exam pass rate reached its lowest level yet in February, with less than 27 percent of test-takers passing.
---
If you enjoy reading FORWARD, here's 2 ways you can help this community:
️🤍 "Like" this email - it's a simple click for you that helps us a lot

⏩ Share or forward this to someone who you'd think would enjoy this email
---
Stay clean.
🧐 Raad