Discover more from NOT BILLABLE
Weekly legal news updates. Full event replays. Curated content. Powered by Lawtrades for the in-house legal world.
Over 4,000 subscribers
⏩ The bar exam strikes back
Welcome to FORWARD, a newsletter for GC's trying to make sense of breaking legal developments.
Linkedin = @lawtrades
This week: The makers of the bar exam say we must have a bar exam this summer, tips for becoming a better writer and secure alternatives for remote meetings.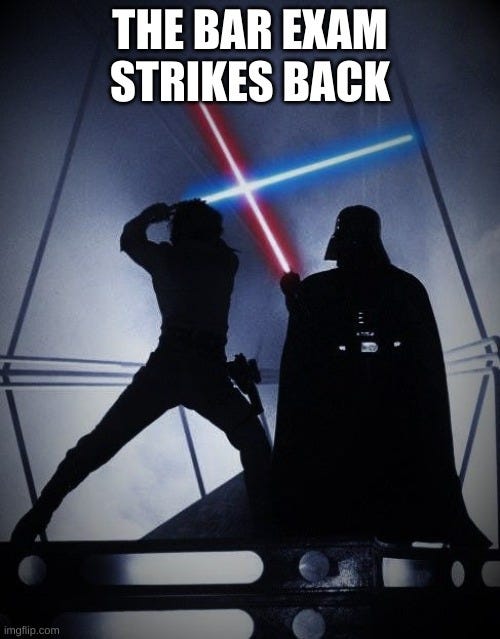 Think that sitting in a crowded classroom in the time of coronavirus is dangerous? The makers of the bar exam say letting young lawyers practice without taking the bar is dangerous, too, according to Law.com. 
Hold up, wasn't the bar exam going to be canceled?: A few weeks ago, influential legal groups shared that opinion. The ABA had even urged states to let new attorneys have limited practicing privileges if they decided to cancel or postpone the exam. And six states, including New York, have postponed the test.

Delays and cancellations seemed like the only option: Given technological constraints, a committee of law professors reasoned that cancellation was the best choice. Some states, including Wisconsin, allow lawyers to practice without passing the bar already (it's called diploma privilege). And Utah has proposed granting emergency diploma privilege this year for graduates of law schools with first-time bar passage rates of 86 percent or higher.

But the National Conference of Bar Examiners has fired back: That's the group that makes the tests. The NCBE argues that without a bar exam a wave of unprepared, unqualified attorneys will be released into the wild and could potentially offer bad legal representation. The NCBE also notes cancellation could lead to adverse financial ramifications for new graduates.       
Of course, there's another financial incentive
The NCBE happens to make a lot of money designing tests. It made $26 million in revenue in 2018, according to Law.com. A year without tests could be painful.     
The Verdict
Law school graduation is a month away. The bar exam is still more than three months away. States have a few weeks to make a final decision, and they're likely going to wait it out. 
---
Bryan A. Garner, a law professor at Southern Methodist University, told the ABA Journal that lawyers "should take writing and editing at least as seriously as you do your keenest hobby." Here are some easy ways he shared in the article for becoming a better writer:
Think like an editor: Instead of mastering every sentence as you write, focus on the editing process. "A good editor tightens by eliminating verbosity and redundancy, sharpens by replacing abstractions with concrete terms and brightens by fighting dullness." 
Spend 15 minutes (at least) reading good nonfiction every day: Books, articles in The Atlantic, The New Yorker etc. "(Pay) close attention to technique and how the writer holds the readers' interest." 
Write something for fun every day: Like a short note. Text messages do not count. "The notes must be authentically you, in your voice, but always you at your best and most refined. If you can write good letters, you can write almost anything."  

---
Bad news for Zoom lovers: The platform's ease of use has made it a target for hackers and trolls. That is not good for attorneys, who depend on privacy. But there are several tips and services lawyers can follow to ensure better security while working remote. 
If you still want to use Zoom: Be sure to require everyone to enter a password to get into the meeting and have the leader of the meeting approve everyone who joins.  
Send messages over Signal: Signal is known for its security, with privacy as the default setting. It also has a videoconferencing service available. 
Pay more Legaler: If your company is thinking about videoconferencing as a longterm solution, it may be smart to check out Legaler. It is a conferencing and management platform built specifically for lawyers and has security and legal-related features that Zoom and Google Hangouts lack. Legaler starts at $19 a month.   
Read more about Legaler and other pros and cons of remote work platforms here.
---
What else we're forwarding
The Supreme Court switches to teleconference: Technology is coming to the country's highest court, partial technology anyway: SCOTUS will be hearing arguments by teleconference. The lack of video is probably for the better, so they can avoid any Zoom-bombing. 
Why the Constitution says Trump can't delay November's election: The possibility has circulated for the last few weeks and may linger into the summer and fall. But postponing the election would require an act of Congress. 
---
If you enjoy reading FORWARD, here's 2 ways you can help this community:
❤️ "Like" this email - it's a simple click for you that helps us a lot

⏩ Share or forward this to someone who you'd think would enjoy this email
---
If you have any topic ideas or feature requests, shoot me a note at raad@lawtrades.com 🤗
Cheers,
Raad (@r44d)