Discover more from NOT BILLABLE
Weekly legal news updates. Full event replays. Curated content. Powered by Lawtrades for the in-house legal world.
Over 4,000 subscribers
⏩ No bar exam this year? It could happen
Welcome to FORWARD, a newsletter for GC's trying to make sense of breaking legal developments.
LinkedIn = @lawtrades
Read time: 4 minutes, 26 seconds.
If you have friends in the legal industry that should be in the loop, share this ⬇️
---
This week: Why the 2020 bar exam may not happen, Big Tech's big gains while everyone works from home and tips on sorting out what's essential at your company. Again: Be safe, healthy and kind to others, and try not to lose your mind!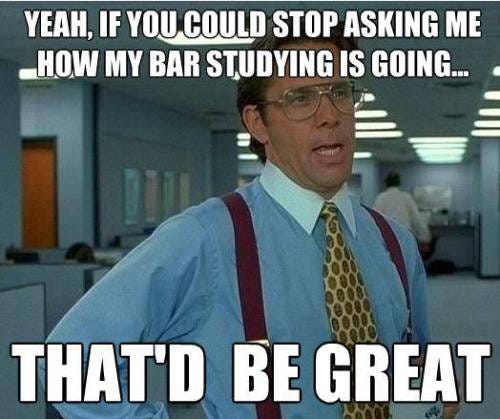 Ah, sitting for the bar exam. One of life's great displeasures.  
This July, because of the coronavirus, the rite of passage for every young attorney -- or one moving across state lines -- may be administered in unprecedented fashion, or not at all. 
11 law professors got together to detail the best options in a new study: And postponement isn't one of them. They figure it will be too difficult to pick a new date because of the potential that the coronavirus comes in waves. 

Cancellation would be devastating: If the exam was canceled with no alternatives, employers would be in a bind, unable to fully use new hires for months longer than anticipated. New law grads may be unable to find work in what could already be a challenging economy.  

Don't even think about taking the bar at home: Because of the legal sector's old traditions the odds of the bar migrating online by July are next to nil.
The best idea is to let everyone skip the bar and get a free pass
Seriously. The legal experts say everyone who has applied for the test this year should get "diploma privilege." It would essentially allow anyone who graduates this year to be allowed to practice without needing to pass the bar, as long as they are under supervision of another attorney. 
The Verdict
The anxiety of not knowing to prepare for a bar exam is weighing on 3Ls as we speak, so a quick solution is needed. And if you're jealous about diploma privilege, don't worry: There's a chance limited privilege would be granted and they would need to take the bar at another time.
---
In half the country, the coronavirus has paused almost everything at work that is not essential. It's up to GC's, in many cases, to decide what should keep going on for their companies, especially those with locations in multiple states and cities. Here are a few tips, from attorneys at Bryan Cave Leighton Paisner.
Keep track of the laws in every jurisdiction that matters for your company. And know which employees are vital to have at the office versus which can work from home. 
If a shutdown order has not been enacted yet, reach out to legislators to ask for details and give reasons why your company is or is not essential.
Ensure that the offices are set up for social distancing for anyone who is still going to work. 

If a shelter in place order is enacted, provide essential services letter for employees who may need to produce them while in transit.

---
The coronavirus and its associated complications have proven at least one thing: We are more dependent on Big Tech than we realized. 
Don't just look at the stocks: Like nearly every company, Google, Facebook, Apple and other tech services are down in value. 

But they're way up in customers and users: People are using Facebook's video and calling services at double the normal rate. Amazon has hired 100,000 warehouse employees to deal with a surge in demand. Streaming is up on YouTube and Netflix. 
Remote work will be the biggest change of all
Zoom has been getting plenty of publicity, but Microsoft is cashing in, too. The number of users on its business messaging app, Microsoft Teams, is up 37 percent. And as more people work from home, businesses will switch to Microsoft, Google and Amazon for cloud computing services. 
The Verdict
These gains could be permanent. Society was already trending away from movie theaters and toward Netflix, away from department stores and toward Amazon. Even if America beats back the coronavirus sooner than later (fingers crossed), people will remember the convenience Big Tech provided. 
---
What else we're forwarding
Keep the founder of Above The Law in your thoughts: David Lat, founder of the popular blog Above The Law, is suffering from COVID-19 and was in critical condition as of Monday. More details here.
This doesn't sound like a good idea: WeWork is offering its employees $100 a day bonuses to work at its locations -- even though many jurisdictions are following "shelter in place" restrictions.
Let's discuss
💬 What technology are you using more for work these days?
Is Zoom perfect for client calls? Do you know of any free or inexpensive services? Share with your fellow GC's.
---
Until next time.
Stay at home, keep your distance, and don't touch your face.
😷 Raad