⏩ Europe is getting way more serious about privacy than the US
Happy Wednesday, GC's! Welcome back to FORWARD, a newsletter that helps you connect the dots with all things legal. 
Twitter = @forward_GC
Read time: 4 minutes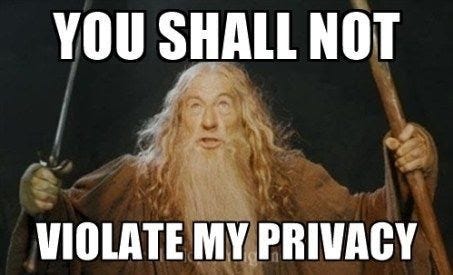 This week: As European regulators clamp down on tech privacy, US law enforcement officials are using a facial recognition app that even the app's investors think could be dystopian. Also, self-driving cars got a legal break -- for now.
---
Are privacy and competition the same thing? European authorities are placing them in the same category, according to The Wall Street Journal. After combining antitrust investigations with data privacy regulations, Europe and Australia are cracking down on major tech companies in a way that could be more harmful to their profits than past efforts. 
Data = dominance: European countries have taken the view that Facebook, Google, and other massive internet companies would not have their competitive advantages without being able to collect and use people's data.

A legal department merger: So, to better police Big Tech, many countries are fusing separate investigative bodies together. For instance, Margarethe Vestager, the EU's leading antitrust investigator, has added another role regarding digital regulation. Vestager has already fined Google billions for alleged antitrust issues and is expected to lead a new investigation this year into whether a hefty data supply can create an unfair advantage.   
Germany v. Zuck, Australia v. Sundar Pichai: Germany recently ruled Facebook had to keep separate the data it gathers from its main website from the data it gathers through other products like Instagram and WhatsApp. Regulators called this collection of data an abuse of power.   
And in Australia regulators have gone after Google because they claim its use of location data for targeted advertisements is an antitrust violation. 
The Verdict
Data collection isn't the only new focus. Authorities are looking into modifying Europe's 19-year-old E-Commerce Directive through the Digital Services Act. The goal is to make tech companies face more responsibility for hosting illegal or dangerous content, such as child pornography.
---
Let's just say the push for privacy isn't keeping pace in the US. In fact, a new facial recognition app being provided to law enforcement agencies just might, according to the New York Times, equal the end of privacy as we know it. 
Well that escalated quickly: It sure did. Local and federal authorities in 600 jurisdictions have used the app for shoplifting, theft and even murder cases. The company that makes the app is Clearview AI, which was started by Australian Hoan Ton-That (he was previously best known for an app that lets users paste Donald Trump hair on their photos so you know he's legit).

How it works: When a picture of someone is uploaded on the app, it unlocks other public photos and the locations of those photos. Clearview AI has scraped Facebook, YouTube and other sites to get the data. As the NYT put it, this means people could lose their "ability to walk down the street anonymously." 
How bad could it get?  
Many tech companies, including Google, could have created similar apps but declined because of the potential for misuse and abuse. 
Eric Goldman, co-director of the High Tech Law Institute at Santa Clara University, told the NYT, "The weaponization possibilities of this are endless. Imagine a rogue law enforcement officer who wants to stalk potential romantic partners, or a foreign government using this to dig up secrets about people to blackmail them or throw them in jail."    
The Verdict
There's likely no stopping Clearview AI or similar programs from becoming fixtures, unless the US enacts a stricter federal privacy law.
---
Companies working on self-driving cars were able to breathe easy when Transportation Secretary Elaine Chao announced earlier this month at CES that new guidelines for autonomous car makers would be optional. But these companies' good feelings might not last for long. 
Safety advocates are pissed: The National Transportation Safety Board (NTSB) and a host of other auto safety advocates expected mandatory rules. One advocate told the AP the lack of rules made the self-driving car industry "a science experiment playing out in real time on our roadways." 

But automakers want to experiment: They need it, if they ever want to get cars on the road. Despite claims that self-driving cars would be a regular site now, autonomous vehicle progress has been slow.  
The Verdict 
Contrary to fears of overregulation, an established set of federal rules could actually help the cars get on the road faster, as it would prevent the automakers from dealing as much with individual states. Analysts who study the industry told Law.com they expect regulations to eventually be enacted through federal legislation.
---
What else we're Forwarding...
Small tech went after Big Tech in Congress last week: Execs from Sonos, Tile and other companies explained why they believe Google and Amazon are so powerful that they can control the success of their businesses. The CEO of the phone grip company Popsockets referred to its relationship with Amazon as "bullying with a smile."
Law school just got even more expensive in California: Tuition at California's public law schools could rise more than 30% by 2023. The ticket price for an out-of-stater at Berkeley Law, for instance, will go from $55,000 to $75,000.   
---
Let's discuss….
Open thread: With Clearview AI releasing a potentially game-changing facial recognition app, what responsibility do tech companies have to back away from products that could lead to abuse? And how can GC's assume the lead when it comes to making these decisions?
Drop a comment! ☝🏼
---
Have a great rest of the week!
🧐 Raad
P.S. - I'll be SF next Friday 1/31. If you'd like to grab a beverage, let me know.
And, as always, please give me feedback by leaving a comment or replying directly. Which story was your favorite? What do you want more or less of? Other suggestions?