Discover more from NOT BILLABLE
Weekly legal news updates. Full event replays. Curated content. Powered by Lawtrades for the in-house legal world.
Over 4,000 subscribers
⏩ Do lawsuits against mask laws have a chance?
Welcome to FORWARD, a 5 minute newsletter with fresh takes on the legal news you need to start your day. Hand curated by friends at Lawtrades—a platform building internet infrastructure for the new world of work.
If you're returning from last time, thanks! If you're new, nice to have you! Feel free to introduce yourself in the comments.
---
This week: An explainer on the legality of mask laws and the battle over whether businesses should get Covid-19 lawsuit immunity. Plus, where Black lawyers are finding success outside of Big Law.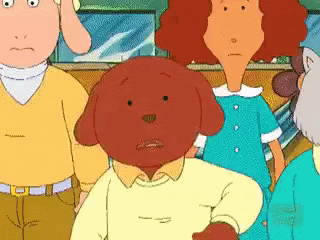 This was one of the funnier legal jokes on Twitter the last few days: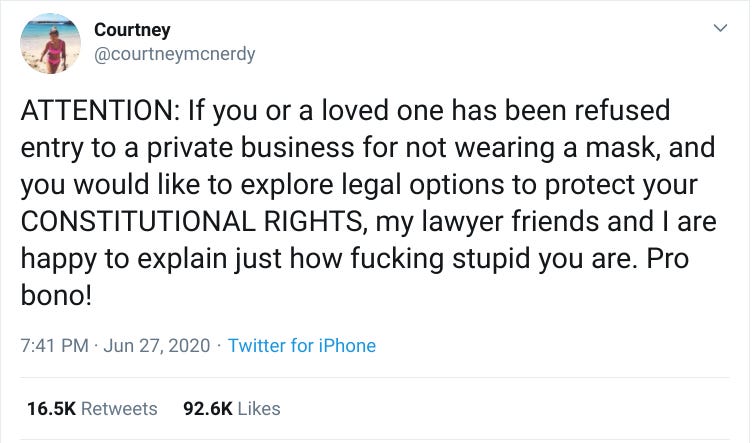 And she's right. Despite a flurry of lawsuits regarding mask mandates, the law is fairly clear: Governments and businesses can force us to wear them.
Emergency orders are the key: Lindsey Wiley, a law professor at American University, told NPR that state and local governments have broad authority to enact mandates when emergencies are declared. The Supreme Court has long granted extensive power to governments during epidemics. 

Businesses have plenty of latitude, too: "No mask" could easily be applied to the "no shirt, no shoes, no service" rule that many businesses go by, according to legal experts in New York -- as long as the mandate doesn't discriminate against any protected classes.  

Yet lawsuits are flying all over the place: Entities from grocery store chains in Pennsylvania to the local government of Orange County are being challenged.   
The legal issues with the mandates are usually in the red tape
It's debatable which governmental body has the authority to start a mask mandate, as well as the process for implementing one. 
The Verdict
Expect more mask mandates to come over the next few weeks. And expect most of the lawsuits to be dismissed or withdrawn, as plenty of them come down to political posturing. 
---
As the legal industry reckons with its diversity problems, a few Black lawyers shared with Law.com how they have navigated the hurdles presented by Big Law. For them, success happened when they left for small and midsize practices or in-house roles. 
The culture at Big Law is infamous for its homogeneity: Black lawyers comprise about 3% of total lawyers at large firms and less than 2% of partners.  

Billing rates are often a challenge for Black lawyers: Without the same levels of mentorship and sponsorship white associates receive, Black associates sometimes struggle to land the major clients needed for large firm rates.

Smaller firms often solve that problem: Esuga Abaya, who works at a five-person corporate firm in Philadelphia, said after he left Big Law for a boutique practice he interacted more with existing clients and was given the time and opportunity to build his own base of new clients, many of whom are Black entrepreneurs. 
The potentially better opportunities don't always make the move easy 
Merle Vaughn, who left a big firm after graduating from Berkeley Law, noted that changing career paths can feel like closing a door or giving up prestige. "It's a hard thing for Black lawyers to come to grips with, especially because you go to the best schools, you do well, you get into a big firm," she told Law.com.  
The Verdict
Boutique firms and companies hiring in-house attorneys should use their strengths to create the diverse atmospheres many Big Law firms have long failed to cultivate. Abaya noted that Big Law could be dealing with an "exodus" of attorneys.
---
Governments have been allowing businesses to reopen, and plenty of them are staying open despite rising coronavirus cases in much of the country. Depending on how state and federal governments act, that decision could carry legal risk, according to Law360.
Many members of Congress want immunity: If there is another coronavirus relief bill, Senate Majority Leader Mitch McConnell has suggested Republicans won't pass it unless there's a civil liability shield for businesses, believing a shield necessary to best promote economic recovery.  

But some Democrats are opposed: They say they don't want a shield to be a hall pass for major corporations to enjoy broad immunity.
Several states are acting on their own
Nine states already have passed similar lawsuit shields, with varying levels of protection. North Carolina, for instance, has granted immunity to only essential businesses and restaurants. Oklahoma and Kansas have shield laws but the entities must prove they complied with state and federal guidelines. 
The Verdict
Legal experts say the need for coronavirus shield laws is likely overstated. So far only a few dozen personal injury coronavirus-related lawsuits have been filed against businesses. And with or without a shield, they say the plaintiffs will have to clear a high bar: proving they contracted coronavirus from the place of business and that the business did not take adequate precautionary measures.    
---
What else we're forwarding
When protecting the tech brand goes wrong: Six eBay employees have been charged with federal crimes for an alleged harassment campaign against the company's critics. Although it was members of the site's security team who were charged, prosecutors say senior executives were involved.
In tech, everybody blames the middleman: What do Amazon, Uber and Postmates all have in common? They act as the intermediary between the buyer and seller -- and what gives them great power is also the reason they often receive complaints from both sides.
---
Happy to hear your comments below.
🧐 Raad