Discover more from NOT BILLABLE
Weekly legal news updates. Full event replays. Curated content. Powered by Lawtrades for the in-house legal world.
Over 4,000 subscribers
⏩ Are all the lawyers going to leave New York City?
Welcome to FORWARD, a 5 minute newsletter with fresh takes on the legal news you need to start your day. Handmade by friends at Lawtrades—a platform giving busy GC's superpowers to do more, with less.
Don't forget to follow us on Linkedin too.
---
This week: Why lawyers may leave big cities and why in-house counsel think WFH is the new normal. Plus: Deloitte makes major legal moves. 
For a significant amount of lawyers, the last four months have meant working from anywhere, with many leaving behind traditional legal centers like New York City. But how long can it last?
Escape from New York: Roughly 5% of NYC residents left the city between March and May, the vast majority of them in wealthy neighborhoods like the Upper East Side and Brooklyn Heights. Although there's been no study on lawyers specifically, industry analysts say that especially young attorneys fled New York, Los Angeles and San Francisco, often to be closer to family and friends, according to Law360. 

They want to stay remote, too: Nearly 70% of lawyers and legal staff, from a survey of 25 firms, recently said they wanted to be remote at least part of the time when the pandemic ends.  

But the boss may have other ideas: The desire to work far from an office location will be tested by any young lawyer's hopes of rising up the ranks. SF-based recruiter Daren Wein told Law360 that powerful partners will convince many associates into staying around the office. "The fact that people can do work remotely doesn't mean that they will get that work once they leave town," Wein said.  
The rise of the mid-level firms  
For those who really want to get away, mid-level firms and independent practices are likely to be enticing. Either that or large firms and companies may consider downsizing in places like New York and Los Angeles -- and opening up office branches in Charlotte, Denver, Nashville and other midsize cities. 
The Verdict
We likely won't know how serious people are about moving away from big cities for another year or two. But companies may be smart to snag some extra real estate in Charlotte just in case.  
---
Speaking of new work patterns: The Association of Corporate Counsel released a new survey of 5,000 of its members showing that remote work has been a big change for in-house attorneys -- and that it could last much longer than the pandemic.
2 key takeaways
90% of counsel surveyed said their company adjusted its WFH policy during the last four months.

Here's the big one: About 47% of counsel believed the adjusted WFH policy will likely stay the same going forward.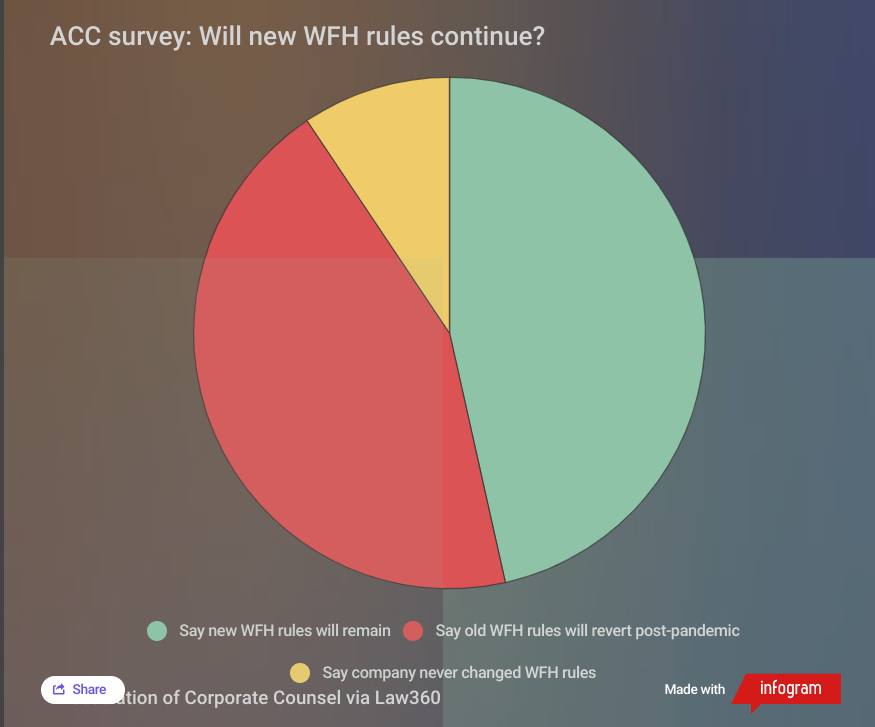 The biggest future change
Probably business travel. Many respondents said they expected once-common trips to cease even after the pandemic. 
Sorry Zoom
Before the pandemic, some 20% of in-house counsel felt comfortable with video conferencing. Now it's about 70%. 
Counsels' preferred vendor is not the much-discussed Zoom. It's actually Microsoft Teams, according to the survey.
---
Legal industry insiders have long pondered what would happen if a Big Four accounting firm dove headfirst into the legal world. We're about to find out because of Deloitte.
The Big Four has dabbled before: Deloitte, PwC, EY and KPMG have all been offering niche services to legal departments, taking minor roles typically served by big firms. 

This is a significant step: That's because Deloitte is launching a broader service, according to Bloomberg Law. The company is expected to contribute to core functions of legal departments, including by streamlining contracts, invoices and eDiscovery.
New laws could help Deloitte grow its legal biz
The Big Four were limited in how they could offer legal services in the past. The ABA essentially forbade them from offering legal advice through a rule that banned, in most situations, lawyers from sharing legal fees with nonlawyers. But those rules are being adjusted in states like California and Arizona and potentially more in the future. 
The Verdict 
Deloitte and the rest of the Big Four have grown their legal practices at a faster rate overseas, where rules are less strict. The same could happen here, whether they carve out more practices on their own or partner with existing firms.
---
What Else We're Forwarding 
Keep RBG in your thoughts: Ruth Bader Ginsburg was hospitalized with an infection earlier this week. She had already been recovering from a gallbladder condition and had surgery on two cancerous nodules in 2019.  
How do you solve an antitrust problem?: Google may have revealed its strategy in a 67-page document from Australia (that first link is to a NYT story; real legal geeks can see the full document here).
Unpacking the SCOTUS decision that ceded Oklahoma land back to Native Americans: So the Justices didn't technically cede half the state, but the decision is nonetheless fascinating and important because of how it could mold the way the US has to deal with past obligations.
---
See you next week.
🧐 Raad